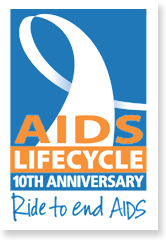 AIDS Lifecycle is an annual event where participant's bike along the California Coastline from San Francisco to Los Angeles to raise AIDS awareness and help fund AIDS research through the L.A. Gay & Lesbian Center and the San Francisco AIDS Foundation. The ride is 545 miles and is broken up into 7 days. The 2011 ride was this past June, they had 2,350 cyclists, and with that ride alone they raised thirteen million ($13,000,000)!!!
If riding a bike along the Pacific Coast Highway isn't your thing and you still want to be a part of the event next year you can still volunteer as a "roadie".
The opportunity to sign up for next year's ride is now. The ride will take place June 3, 2012 – June 9, 2012.
You can find the information here: http://www.aidslifecycle.org/