Life
Memorial Day Mourning Discrimination of Gay and Lesbian Americans
Details

Written by

Melanie Nathan

Parent Category: News
Hits: 4711
"'The Constitution our son died for was intended to protect rights, not deny them." Lori Wilfahrt

Memorial Day is a federal holiday observed annually in the United States on the last Monday of May. Formerly known as Decoration Day, it originated after the American Civil War to commemorate the fallen Union soldiers of the Civil War. By the 20th centu Memorial Day had been extended to honor ALL Americans who have died in all wars. It is a day of remembering the men and women who died while serving in the United States Armed Forces, regardless of sexuality.
Many people visit cemeteries and memorials, particularly to honor those who have died in military service. Many volunteers help create a sea of red white and blue by placing an American flag on each grave in national cemeteries across the Country.

This memorial day, we at GAY U.S.A. the Movie are working on post production aspects of the film which includes interviews with the the family of fallen U.S. Corp. Andrew Wilfahrt.
Here is a video commemorating Corp. Andrew Wilfahrt, which we would like to share in acknowledgment that war does not discern when it comes to sexuality, and some of those who have given their lives to this Country and the Constitution for which it stands, did so knowing they were the subject of institutionalized discrimination themselves, yet were willing to die for principals that are still caste in hope. American day to day life has fallen far short of equality for all Americans under the law. Until we apply civil laws, regardless of sexual orientation or gender identity, equally to all Americans, we are a country that discriminates. That must change and it must be soon.
While all Americans have a right to serve openly in the military, without regard to sexual orientation, thanks to the repeal of the 'Don't ask don't tell' law, LGBT servicemembers still suffer rampant discrimination with regard to marriage equality, green card sponsorship of binational partners or spouses and a host of other missing benefits caused by lack of equality under the civil law of the U.S.A.
Jeff Wilfahrt the father of Corp. Andrew Wilfahrt is running for Minnesota Assembly. Lori Wilfahrt speaks around the U.S.A., honoring her son's memory. The speech seen in this video was filmed at the first OUTserve Conference in Las Vegas, 2011.
SEE VIDEO AT http://gayusathemovie.com/2012/05/memorial-day-includes-gay-and-lesbian-americans-while-the-law-does-not/ Video by Kristina Lapinski
Add a comment
From a Porterville resident...
Details

Written by

Melissa

Parent Category: News
Hits: 4571
The following article came to me from a Porterville resident. I was asked to share this story with you in hopes of shedding some light and possibly receive some advice from the community as to what the couple should do, if anything.
Vanessa Bazaldua and Heather Sisemore are embarking a new journey in their relationship. They are pregnant! While most of us in the community find this an exciting time for the couple we unfortunately still live in a society where this type of news is not as celebrated by everyone else.
Hey, Melissa,
I was wondering if you could do me a favor. Me and Vanessa had something crazy happen to us last night. And we want to get this out. Or want to know if we should get this out. We wrote a little article on it. So if you could read it and send advice. Greatly appreciated.
On Saturday November 12th at approximately 2300 hrs. My girlfriend and I (Vanessa) went to a Quinceñera, invited by her friend Gabriella Garcia, at the Kings County Fair Grounds. Currently being nine weeks pregnant I was feeling very nauseous, so I asked Heather to please accompany me to the bathroom. She joined me in a small stall to comfort me, rubbing my back and holding my belongings. After being in there for fifteen minutes maximum, Heather had suggested we go and get some food to see if it would ease my stomach. Before I could even move away from the toilet a security officer was knocking on the stall door. Heather being the closest answered to them telling her that we needed to exit, because I could not be in there, referring to me as a male. After Heather politely assured them that I was a female, she then proceeded to tell them that I was pregnant and not feeling well, also noticing that they had cleared out the entire bathroom. One of the officers then made the remark of "are u sure she is a girl?" Heather again made it clear that I was a female, pregnant, and she was my girlfriend simply taking care of me. Even then, they told her we couldn't be in the same stall, so they asked her to please wait outside. Heather then said she would not leave me alone, and asked if she could please stand outside the stall with the door open. They refused, and a guard then told me that there was nothing wrong with me so I had to leave. I was then very upset and offended, and in tears. As I exit the bathroom, a lady was commenting to a security guard, saying how gross we were. After hearing that, and seeing the guard didn't even hesitate but to agree, I told her I was a pregnant female with my girlfriend, trying to have privacy so that they wouldn't have to see me throw up. After going to the car, bewildered by what had happened and feeling very harassed. Heather went back to talk to the security guard, who she repeatedly told I was a female, and he still continued to call me a him or a boy, and told him that we felt very offended. He then said he was just trying to do his job, and said someone had reported to him that there were two boys in a stall for a long time, she then asked him why after making it very clear to him that I was a female he proceeded into kicking us out, he repeated with "I'm sorry, I was just doing my job." Heather then told him, that his job was to check and see what was going on, and after seeing it was two females, one of them being sick, to make it known that there was no boy in the restroom and that they could be at ease.
Now I understand that not everyone agrees to our lifestyle. Nor are we trying to push our lifestyle on anyone else. I understand that some may confuse me as a boy, by my short hair and my manner of dressing, but I don't mind reassuring people I am a female. Never have I felt as harassed as I did that night. As if I was a human with a deadly disease, that was very contagious. I know that I can't change what happened to me that night, but I want to make sure this is known, and make a difference, so when the day comes and it happens to someone else, they are treated differently, with dignity and respect.
The couple experienced great ignorance this past weekend. It is not fair that any member of our society should have anxiety upon entering a restroom for fear they will be ridiculed and questioned. I get so angry knowing this happens. It strikes a personal cord for me and just wish some people could expand their mind just a tiny bit.
Aside from the events that transpired for them this past weekend, both families of the couple are very open and happy about the pregnancy. The baby's due date is June 15, 2012 and the couple will be registering for domestic partnership in the near future. A big congratulations to the happy couple!!
Add a comment
Ride a bicycle to end AIDS!
Details

Written by

Melissa

Parent Category: News
Hits: 4930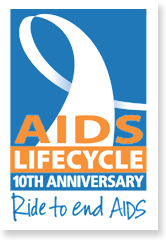 AIDS Lifecycle is an annual event where participant's bike along the California Coastline from San Francisco to Los Angeles to raise AIDS awareness and help fund AIDS research through the L.A. Gay & Lesbian Center and the San Francisco AIDS Foundation. The ride is 545 miles and is broken up into 7 days. The 2011 ride was this past June, they had 2,350 cyclists, and with that ride alone they raised thirteen million ($13,000,000)!!!
If riding a bike along the Pacific Coast Highway isn't your thing and you still want to be a part of the event next year you can still volunteer as a "roadie".
The opportunity to sign up for next year's ride is now. The ride will take place June 3, 2012 – June 9, 2012.
You can find the information here: http://www.aidslifecycle.org/
Add a comment
Pacific Pride Festival
Details

Written by

Melissa

Parent Category: News
Hits: 4675
Looking to get out of town this weekend?
Maybe looking to fly your rainbow flag a little longer? Perfect!
Pacific Pride Festival is this coming weekend on the beaches of Santa Barbara!
The festivities have already begun but it looks like a lot of promising events are still ahead.
July 6
 

Official Pride Kick-Off Party


July 7
 

Pride Girl Party


July 8
 

Erasing Lines - a photo exhibition of Santa Barbara Drag


July 8
 

Pre-Festival party


July 9
 

Pride Festival


July 9
 

The After party at Club Tonic (My favorite club!)


July 10
 

Closing party at Club Wildcat (My second favorite club!)
The festival itself is free and is Saturday July 9th from 11am - 7pm.
This isn't San Francisco pride by any means but the couple of times I'd gone I definitely had a good time. Plus who wouldn't love being at the beach during the valley's heat wave?
Santa Barbara is my old stomping grounds so I know just how pricey a trip there can be. If you are interested in going contact me and I'll be sure to point you in the right direction.
For more information go to: http://www.pacificpridefestival.org
Add a comment